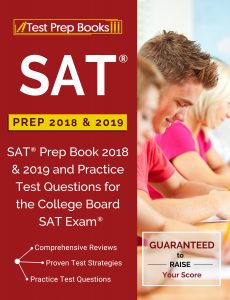 The SAT is used by colleges, universities, and other educational institutions the world over as part of their admissions process. This test shows whether or not you have skills, knowledge, and abilities that will be required for success as a part of their program. The SAT focuses on what you are learning or have learned in high school and what you will need to learn to succeed in college.
Who is Eligible?
There are no real restrictions as to who can and who cannot take the SAT as far as age, experience, or previous education. However, the SAT is designed to be taken by students who are:
Applying for a college or university undergraduate program
Applying for scholarship, financial aid, or other programs that require a college admission test as part of the application process.
The SAT is designed and maintained by the College Board. They reserve the right to investigate and disqualify registering candidates if they feel they are not using the SAT for its intended purposes.
There is a registration fee of $47.50 for the SAT. The SAT with essay costs $64.50. You may be eligible for a fee waiver. Please check with your current high school or online to see if you qualify.
When and Where is it Taken?
The SAT is administered by College Board one time during the following seven months out of the year: August, October, November, December, March, May, and June. Registration deadlines for each test fall about a month before those dates.
For those that cannot test on a Saturday due to religious observances, Sunday administrations are available. Additional fees may apply if you register late, change your test date, time, and/or location, or switch your test type.
SAT testing sites are located worldwide with multiple centers in many countries, states, and provinces. There is bound to be one near you. A full list of available locations will be provided to you during registration. We recommend that you register early, as seating and space may be limited.
At the end of the registration process, you will be provided with an admission ticket. This will include the time, date, and location of your scheduled test as well as some of your personal and contact information. It is important that you print this out and keep it, as you will need to bring it with you on testing day.
What is Needed?
You will need to arrive on time for your test. All test center doors open at 7:45 am. At 8:00 am you will be expected to be in the building, as the doors then close and lock. This means that if you arrive late you will not be admitted for testing and will have to reschedule and pay a rescheduling fee.
When you arrive, make sure to have at least one form of current and valid personal identification as well as your admission ticket. This must be government-issued or must be issued by your current school. This ID must include your full, legal name as it appears on your SAT registration information and a recent and recognizable photo.
Both your admission ticket and your ID should be kept on your person throughout your time spent at the testing center, as you will need them to sign back in from breaks and for certain parts of the test administration.
You may bring two No. 2 pencils with erasers and an approved calculator with you. Your calculator will need to be battery operated, handheld, and not make noise. Calculators will be inspected upon arrival.
You may also bring drinks, snacks, a watch, extra batteries, and any medical treatments such as an epinephrine pen with you. These, except for your medical supplies, will be kept in a secure area away from the testing site. The EpiPen and other medication can be kept in a clear plastic bag under your desk.
Any other personal belongings, including cell phones, are strictly prohibited. If you are found with prohibited items with you during the test, your scores will be canceled and you will be immediately dismissed from the testing center.
What is Covered?
The SAT has three main sections: Reading, Writing and Language, and Math. There is also an optional essay section that some colleges require. These sections and the abilities assessed are ones that deemed as absolutely necessary for success in most colleges and careers.
The SAT strives to give examples, reading passages, and questions that have real-world value and will help you better understand what will be expected of your future endeavors. Below you will find a brief description of each section and what it will entail.
Reading Test
This section measures command of evidence, words in context, and analysis in History/Social Studies and in Science.
This section always includes at least:
One passage from a classic or contemporary work of U.S. or world literature
One passage about economics, psychology, sociology, or another social science
Two science passages that include foundational concepts and developments in Earth Science, biology, chemistry or physics
One passage from a U.S. founding document or a text in the Great Global Conversation they inspired
Writing and Language Test
This section will have you read, find mistakes and weaknesses in the selection, and fix those errors. All questions are multiple choice, with no math or prior topic knowledge required. This area will test:
Command of evidence
Words in context
The analysis in History/Social Studies and in Science
Expression of ideas
Standard English conversions
Math Test
The math section is divided into two main sections: Calculator and No Calculator. Most questions are multiple choice but a few, called "grid-ins" will require that you come up with the answer instead of selecting one. This section focuses on three main areas of testing:
Algebra- linear equations and systems
Problem-solving and data analysis
Advanced math- the manipulation of complex equations
The math section will also include some geometry and trigonometry.
SAT Essay
This section will give you a passage to read. You will be asked to explain how the author builds an argument to persuade an audience and support your explanation using evidence from the passage. While the passage is different on every exam, all passages will:
Be written for a broad audience
Express subtle views on complex subjects
Argue a point
Examine ideas, debates, or trends in the arts and sciences, civic culture, or political life
Be taken from published works
Use logical reasoning and evidence to support claims
This section and your response will assess your ability to read, analyze, write using standard written English.
How is it Scored?
Score reports will be available online within a week or two of taking your test. Those who took the SAT with an essay may have to wait a few days longer to receive the scores for that portion. Within days of you receiving all of your test scores, your score reports will be sent to the colleges and institutions of your choosing.
During registration, you can choose to have your scores from any given day of testing sent to up to four colleges or institutions for free. If you forget to do so before the test, you can schedule to send your score report to these colleges after your test as well. You can even choose which scores to send to them, making sure they see the best you have to offer.
There is no such thing as a passing or a failing score on the SAT. This test measures your abilities in the subjects tested and lets colleges see how those to compare to other students.
Scores can range from 400-1600 total. The Evidence-based reading and writing section can earn you 200-800 of those. The math section will earn you another 200-800 and then SAT essay will have three scores ranging from 2-8.
You will also be shown a score range, a mean score, college and career readiness benchmarks, and percentile ranks. These are all designed to show you how you compare to other test takers in your grade and what areas you can improve on before college or a career.