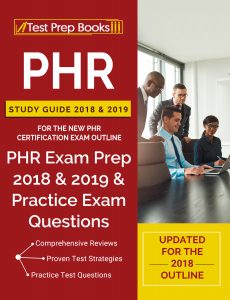 In order to be eligible to sit for this exam, you must meet education and experience requirements. You must have a master's degree and one-year experience as a professional HR employee OR you must have a bachelor's degree and two years' experience as a professional HR employee OR you must have a high school diploma and four years' experience as a professional HR employee.
The PHR Exam is computer-based and consists of a total of 175 questions. Of these questions, only 150 are scored. You will have 3 hours to complete the exam.
If you require special testing accommodations for conditions that are covered under the Americans with Disabilities Act, you can make this request in writing.
Wheelchair access, reader, recorder, extended testing time, a separate testing area, zoom text font size, and Jaws software are some of the accommodations that can be provided. If you require other accommodations that are not listed on the request form, there will be space where you can write in those requests. You will be informed of whether or not the test center can provide the accommodations.
What categories and tasks are covered on this exam? What percentage of questions are there for each category?
Business Management – 20%
Talent Planning and Acquisition – 16%
Learning and Development – 10%
Total Rewards – 15%
Employee and Labor Relations – 39%
Business Management
Under the Business Management category, professionals are expected to be able to utilize basic information applicable to the business world, promote the organization's core values, identify the role of stakeholders, and how it impacts decision-making, mitigate risk, and figure out the importance of data when endorsing organizational strategies.
Talent Planning and Acquisition
Under the Talent Planning and Acquisition category, professionals are expected to be able to understand federal laws and organizational policies in order to meet legal and ethical requirements when hiring, create and use effective sourcing techniques, and carry out the acquisition life cycle.
Learning and Development
Under the Learning and Development category, professionals are expected to be able to offer employees ideas on professional growth and development, execute and assess career development and training programs, and be a vital part of succession planning by providing significant data.
Total Rewards
Under the Total Rewards category, professionals are expected to be able to oversee information that is related to compensation as well as address payroll issues, publicize the non-money rewards of the organization, put benefit programs into operation, and manage compensation and benefit programs that are compliant with federal law.
Employee and Labor Relations
Under the Employee and Labor Relations category, professionals are expected to be able to determine the effectiveness of each stage of the employee life cycle, gather, manage, and speak to employee engagement data, have a thorough understanding of the culture and theories of the organization, as well as make recommendations when appropriate, promote diversity & inclusion, and stick to federal laws when carrying out health, safety, security, and privacy programs.
In addition, uphold organizational policies & procedures, deal with complaints in regard to employment practices, work environment, etc., help with fostering positive employee & labor relations, be in contact with management to be abreast of the performance management process, and aid in performance and employment activities.
What is the most convenient way to apply for the exam?
Apply and pay for your exam online. Once you've applied, and receive your eligibility ID, you will be given 120 days to select your exam date and location. You can schedule your exam online or over the phone. If you do schedule over the phone, you will incur an additional fee of $10.
What is the cost of taking this exam?
The cost of taking this exam is $395 for the exam, and $100 for the application fee, for a total of $495.
What are the testing dates and locations?
Testing for this exam is offered on a continuous basis. There are many test centers and dates to choose from, worldwide.
What should I do the day of the exam?
Report to the testing center at least 15 minutes early. This will afford you enough time to go through the check-in process. You may be refused admission if you arrive more than 15 minutes late. If not admitted for being late, the fees you paid will be forfeited.
Bring a form of identification that includes your name, signature, and photo.
The exam will have a built-in calculator, therefore, you are not required or allowed to bring your own.
You are prevented from bringing items such as cell phone, food/drink, or watches into the testing area. If you bring items to the testing center that are not allowed in the testing area, you will be required to put those items in a locker. You will not be allowed to access these items during the exam.
What happens after I take the exam?
Once you have completed the exam, you will receive your unofficial score report before leaving the testing center. About a day or two later, you will receive notification that your official score report is available online.
If you pass the exam, you will receive a digital badge as your certificate. You will also be given the option to purchase a hard copy certificate.
What is the minimum passing rate on this exam?
52%
What happens if I don't pass the exam?
You may schedule to re-take the exam, but must wait 90 days before each attempt. You are not allowed to take this exam more than three times in a 365-day period.