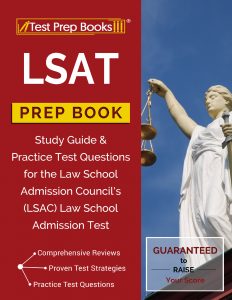 The Law School Admissions Test or LSAT is the only standardized test accepted by every law school. This test is used as part of the admissions process and is designed to evaluate the knowledge, skills, and abilities of candidates that are crucial for success in law school. This test is constructed and maintained by the Law School Admission Council or LSAC.
Who is Eligible?
Anyone seeking admission to an ABA-approved law school can register to take the LSAT. You can do this online through your LSAC.org account or over the phone.
There is a $190 exam fee for the LSAT.
When and Where is it Taken?
The LSAT is scheduled only a few times per year. Many law schools ask that the LSAT be taken by December so that your scores and processing is complete for admission the following Autumn. It is often recommended that you take the test earlier than this just be safe.
Several of these scheduled tests are on Saturdays. However, if you wish to not take your exam on a Saturday for religious reasons, there are some Sabbath observation dates available.
The LSAT is taken at a great number of LSAC published testing centers throughout the U.S., Canada, and the Caribbean. There are some international locations as well. Space is limited; therefore, it is important that you register to the LSAT as early as possible to ensure you take it at your preferred testing center.
A full list of available dates, times, and locations will be provided for you during your LSAT registration.
If there are no testing centers within 100 miles of your location and it is impossible for you to travel to published testing center, the LSAC may be able to establish a nonpublished test center near you upon request.
You may reschedule your exam for any reason up until the administration deadline for the exam you are scheduled to take for a fee of $125.
What Should I Bring?
On testing day, you will be required to bring the following items:
LSAT Admission Ticket: You will need to bring page 1 of your admission ticket with you to the testing center. You will be required to sign this as part of the check-in process.
Identification: A current and valid government issued ID must be presented during the check-in process as well. This ID must include your first and last name that matches your LSAT admission ticket, a recognizable photo, and your signature. You will not be allowed to enter the testing facility and take the LSAT if any information is incorrect or missing.
Pencils: You will need to bring three or four sharpened No. 2 or HB wooden pencils. These should have good erasers. Mechanical pencils and erasers are prohibited. Extra pencils or sharpeners will not be provided for you.
You may bring a clear gallon sized Ziplock bag to be stored under your chair containing the following items:
ID
Wallet
Car keys
Feminine hygiene or medical products
Extra pencils
A highlighter
An eraser
Beverage in plastic container and snack
A pencil sharpener
Tissues
These items are not be accessed during the test and are for breaks only. All items must fit completely in the bag and the bag must be zipped.
Any other items, including a cell phone and any electrical devices, are strictly prohibited. If you are found to have any personal items that are not listed above, you will be dismissed from the testing center immediately and will not be allowed to test.
What is Covered?
The LSAT is made up of five 35-minute multiple choice sections. This includes one reading comprehension section, one analytical reasoning section, two logical reasoning sections, and one unscored pretest or variable section. This unscored section will not be labeled as such and its placement will vary.
There is also a 35-minute unscored writing sample included. While this isn't scored, law schools will receive a copy of this along with your scores. They will use this sample to assess the clarity, reasoning, language usage, writing mechanics, and organization skills that you possess.
Below is a brief outline of the major subjects each section will include and content you will be expected to know:
Reading Comprehension
Information that is explicitly stated
The main idea or primary purpose
The meaning or purpose of words or phrases as used in the context
Information or ideas that can be inferred
The organization or structure
Analogies to claims or arguments in the selection
The impact of new information on claims or arguments in the selection
Principles that function in the selection
An author's attitude as revealed in the tone of a passage or the language used
Analytical Reasoning
Reasoning with conditional or "if-then" statements
Inferring what could be or must be true facts or rules given together with any new information that may be presented
Recognizing when two statements are logically equivalent in the context
Comprehending the basic structure of a set of relationships by determining a solution that solves all factors of the problem at hand
Inferring what could be or must be true based on facts or rules given
Logical Reasoning
Drawing well-supported conclusions
Recognizing the parts of an argument and their relationships
Reasoning by analogy
Determining how additional information or evidence may affect the argument
Identifying flaws in arguments
Recognizing similarities and differences in patterns of reasoning
Identifying and applying principles or rules
Recognizing misunderstandings or points of disagreement
Detecting assumptions made by particular arguments
Identifying explanations
You will not be expected to have prior knowledge of special terminology or formal training in logic. These questions are meant to test your ability to reason and use the skills necessary to law school.
How is it Scored?
The LSAT is scored based on the number of questions you have answered correctly. This is called your raw score. Each question is weighed the same and there is no penalty for guessing.
Your raw score is converted to an LSAT scaled score that ranges from 120 to 180.
For those have an LSAC.org account, you will receive your scores about three weeks after your test is complete. These will be sent by email for no additional charge.
Those who do not have online accounts will receive a paper score report by mail about four weeks after you have taken your test.
You score report will include your current score, the results of up to 12 of the last tests you have taken since June of 2013, your average score, your percentile ranking, any disclosed test materials, and your score band. Your score band is the range of scores that your actual proficiency in the subjects assessed is likely to fall within.
Only three of these times every year are classified as disclosed tests. When taking a disclosed test, you can expect to receive or have access to a copy of your answer sheet and all scored sections that contribute to your score, along with your score results and ranking.
However, if you take a non-disclosed test, you will not receive copies of your answers or any sections of the test you took with your score report. This is to keep some versions of the test and its various forms for special uses and emergencies.
A copy of your score report will be sent to you and the law schools you have applied to. However, during the registration process, you can request that your report be sent to other law schools, agencies, and individuals, and eligible programs related to your legal education. These reports can also be sent to your prelaw advisor at your undergraduate school.