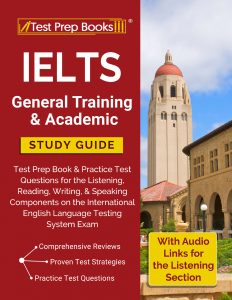 The IELTS Academic Exam is generally taken by individuals who want to study at undergraduate and graduate levels, while IELTS General Training is for those who want to move to an English-speaking country.
In some countries, these tests are administered via computer, but in most, they are administered via paper and pencil.
Test centers provide special accommodations for those that require them. It is important to make these requests in a sufficient amount of time. For example, if you are eligible for a different version of the exam, you must make this request three months before your test date.
Other accommodations such as extended test time, additional breaks, permission to eat food or drink a beverage because of the medical condition, or take medication related to the condition, are some of the accommodations that can be provided must be requested six weeks before the exam.
What are the formats for the sections of the exams?
For both exams, the Listening section follows the same format. You will be given 30 minutes to complete the section, in which you listen to four recordings, then answer ten questions per recording, for a total of 40 questions.
The types of questions for this section include multiple choice, matching, plan, map, & diagram labeling, and form note, table, flow-chart, & summary completion, sentence completion, and short answer questions.
The format for the Speaking section of both exams, is also the same. There will be 11-14 minutes to complete the Speaking section, which is done in three parts.
For the first part, you will be asked general questions about yourself. On the second part, you will be given a card that asks you a question on a certain topic. The third part consists of you answering additional questions about the topic from the second part.
The types of questions for this section include introduction & interview, long turn, and discussion. Will be scored based on fluency & coherence, lexical resource, grammatical range & accuracy, and pronunciation.
The Reading section for both exams is similar in that you will be given 60 minutes to complete 40 questions that are multiple-choice, identifying information, identifying writer's view and/or claims, matching information, matching headings, matching features, matching sentence endings, sentence completion, summary, note, table, & flow chart completion, diagram label completion, or short answer questions.
The difference is that that texts of Academic Reading will be factual and analytical, such as those that come from books, journals, and newspapers, while the texts for General Training Reading will look for main ideas or the gist. These texts will come from sources such as magazines, advertisements, and notices.
For both Academic Writing and General Training Writing, you will have 60 minutes to complete two tasks.
With the Academic Writing section, the first task will consist of you describing or summarizing data from a graph, table, or chart. For the second task, you must write a formal essay response to a point-of-view or argument.
With the General Training Writing section, the first task will consist of writing a letter, asking for information or giving details about a situation. For the second task, you will write an informal essay response to a point-of-view or argument.
For both writing sections, Task 1 is assessed on task achievement. Task 2 is assessed on task response. Both will be assessed on coherence and cohesion, lexical resource, and grammatical range & accuracy.
How can I register for the exam?
The most convenient way to register for either IELTS Exam, is to do it online. If online registration is not an option for you, you can download and print an application form.
What is the cost of taking this exam?
Each test center sets its own fee. Be sure to consult with the test center at which you'd like to take the exam before registering.
Within the United States, the price range is $215-$240, depending on the test site.
What are the testing dates and locations?
As with the cost of the exam, the testing dates vary from site-to-site, country-to-country.
There are approximately 1,200 test centers across 140 countries.
What should I do the day of the exam?
Report to the test center on time. Bring with you the identification and documentation required of the center.
You are prevented from bringing items such as a cell phone into the testing area.
What happens after I take the exam?
You will receive your unofficial score report 13 days after taking the exam. Your results will be online. You can also arrange for the test center to mail you a copy or you pick up an official report from them.
If you designated organizations for your report to be sent to, IELTS will automatically do so.
What is the minimum passing score on this exam?
There is no general minimum passing score on this exam. Each section of the test will be assessed using the 9-band scale.
Non-user
Intermittent user
Extremely limited user
Limited user
Modest user
Competent user
Good user
Very good user
Expert user
The organization you have chosen will use these scores to assess your skills.
What happens if I don't pass the exam?
You may schedule to re-take the exam, but it is advised that you take some time before doing so, in order to make sure you've spent a sufficient amount of time studying.