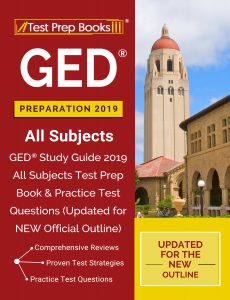 A successful completion of the official GED test earns you a high school equivalent diploma. Millions of jobs require at least this level of education. This critical test focuses on subjects and topics that you are expected to be learning or have learned during your high school career.
Who is Eligible?
Each state and province are allowed to set their own policies and rules about the GED and what is required to take it. Most of them require that you be a certain age, such as 18, or have a pass or contract from a local high school.
Most areas require that you are a resident of that state or province for a certain amount of time. They may also require you to take a civics test, GED class, or a GED ready practice test before you can be eligible. Make sure to check with your state or province to know what will be required and to ensure that you qualify.
Fees
Each subject is charged its own fee. This is because each subject can be scheduled to be taken separately on a computer. Therefore, you can work and pay at your own pace to take and finish the GED. These fees are due during the registration process and before you test using a credit or debit card online.
Each state or province has a different set of prices for these sections. Most states and provinces have a price range between $6 and $40 based on the economy in that area. Make sure to check the prices for your state or province, as well as the testing rules and policies, as these often vary.
When and Where is it Taken?
The GED is taken year-round at official GED test centers throughout the U.S. and Canada. These test centers are owned and operated by Pearson VUE. A complete list of available dates, times, and locations will be provided to you during the registration and scheduling process.
Remember, the GED test sections can be taken all at once or scheduled separately. Space may be limited; therefore, we recommend that you schedule your test as early as possible.
To register for the official GED, you will need create a GED account online. This will allow you to register for, pay for, and schedule a test day at time and place that it most convenient to you.
What Should I Bring?
Plan to arrive for your scheduled test at least 15 minutes early. This will allow you enough time to complete the sign in process and not be late. Those who arrive late for the test will not be allowed to take it that day and will have to reschedule as well as pay for the subjects being tested again.
You will need to bring at least one current and valid form of personal identification with you to the testing site. This must include your first and last name as it appears on your registration information, your signature, and a recent and recognizable photo. IDs that do not include this information will not be accepted and will not allow you entrance to test.
You can also bring a TI-30XS handheld calculator for use in some sections of the test. Any other personal items, including cell phones, pencils, and study materials are not allowed in the testing area. These will be kept in a secure area until you are completed with the test.
What is Covered?
The GED is separated into four main subjects: Math, Language Arts: Reading and Writing, Social Studies, and Science. All sections consist of multiple-choice, drag and drop, drop down, and select an area questions, with the exception of the language arts. It requires an essay as well.
Mathematics
Time: 115 minutes, two parts with a short break in between
Test Topics:
Basic algebra, functions, and patterns
Data analysis, statistics, and probability
Geometry and measurement
Number operations and number sense
Language Arts: Reading and Writing
Time: 150 minutes, three parts with a break in between the second and third sections.
Test Topics:
Poetry, drama, and prose
Visual and performing arts reviews
Workplace and community documents
The third part of the language arts section is an essay.
Social Studies
Time: 70 minutes
Test Topics:
Reading for meaning in Social Studies
Geography
Civics and government
Using numbers and graphs in Social Studies
Economics
Analyzing historical events and arguments in Social Studies
Science
Time: 90 minutes
Test Topics:
Physics and chemistry
Reading for Meaning in Science
Life science
Designing and interpreting Science experiments
Using number and graphs in Science
Earth and space science
Each test is slightly different. This means that the number of questions in each section is not always the same, as more questions are constantly be taken off and others added. This is to make sure that the test accurately assesses real world skills and knowledge that are used in every day life. As the times change, so does the content of the test.
How is it Scored?
Your scores will be available within 24 hours after your test. You will be notified by email when they are ready and have been added to your account. You are required to earn a score of at least 450 on each test section to be considered passing.
Your score report will also include your percentile rank. This is a ranking given to you based on your scores compared to other graduating high school students. Your percentile rank indicates the percentage of those students who scored at or below your test score. This ranges from 1 to 99.
You are allowed two retest opportunities, should you need it, within 12 months of your initial test. However, if you fail a third time, you will have to wait at least 60 days to retake that section. The price to retest will vary by subject, your state, and how long it has been since your last test.