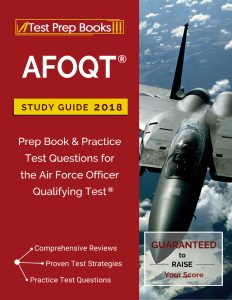 The Air Force Officer Qualifying Test (AFOQT) Form T is used to select applicants for Officer Training School or Air Force Reserve Officer Training Corps.  As of 1 August 2014, the Form T supersedes previous editions; scores from previous editions are not valid for candidate application.
Eligibility
You must be a U.S. Citizen, have a bachelor's degree, pass a thorough background investigation, and be between the ages of 18 and 34 to attend Officer Training School. If you meet these basic requirements, you will need to speak with an Air Force Officer Recruiter to obtain more information and begin your application. You will not be scheduled for the AFOQT Form T assessment until your basic eligibility requirements are met.
Test design
The AFOQT Form T is a five-hour long assessment designed to test your skills and knowledge and is used as a predictor of success in specific Air Force training programs. Success on the test will determine your candidacy for officer training programs and the career you will have as an officer in the United States Air Force.
The paper-based exam consists of two parts of 12 subtests, each with their own testing time allotment. Each multiple-choice question has four or five possible answers. Part A contains seven subtests, and Part B contains five subtests.  The format of the assessment is as follows:
Part A: Includes 42 minutes for administrative activities and a ten-minute break

Verbal Analogies – reason and identify relationships among words

Eight minutes
25 questions

Arithmetic Reasoning – solve problems with arithmetic
Word Knowledge – knowledge of words and their meanings

Five minutes
25 questions

Math Knowledge – knowledge of mathematical terms and principles
Reading Comprehension – read and understand written material

38 minutes
25 questions
Passages are modeled on Professional Military Education materials

Situational Judgment Test – utilizing judgment in interpersonal situations

35 minutes
50 questions
Based on challenging leadership and interpersonal scenarios junior officers may face

Self-Description Inventory – personal style and attitudes

45 minutes
240 questions
Unscored

Part B: Includes 29 minutes for administrative activities and a 15-minute break

Physical Science – knowledge of science
Table Reading – ability to read a table quickly and accurately

Seven minutes
40 questions

Instrument Comprehension – determine the position of an airplane in flight

Five questions
25 questions

Block Counting – ability to see into a three-dimensional pile of blocks

Four and a half minutes
30 questions

Aviation Information – knowledge of aviation

Eight minutes
20 questions
The listed time periods and number of questions is a base guideline. Your assessment's timing and question proportions may differ slightly; however, the entire test, including preparation and breaks, will amount to approximately five hours.
Registration, cost, and dates
To register for the AFOQT Form T, you will make arrangements with your local Air Force officer recruiter. The recruiter will gather necessary information and determine your eligibility. Once your eligibility is verified, your test will be scheduled.
Cadets in a Reserve Officer Training Corps (ROTC) program will take the AFOQT Form T during their sophomore year at the time and location determined by their ROTC command. All others will schedule their exam at the nearest Military Entrance Processing (MEPs) location. The Air Force officer recruiter will work with you to arrange the most convenient location.
There is no cost associated with the AFOQT Form T test.
Test Day
Arrive early to your testing location and have the identification required to take your exam. You will secure personal belongings in your vehicle or a location identified by the test proctor. Prohibited items will be removed from your person, and you will be directed to your testing station. Scratch paper and pencils are provided.
Each subtest provides you an opportunity to answer practice questions to become familiar with how questions are phrased in that subtest. The time for the practice questions is limited and meant to introduce you to question format.  If you are unsure what the subtest is asking you to do, ask the test proctor. The proctor can only help you understand the directions; they cannot assist you in answering or developing a test strategy. Once the practice time is expired, your test time begins.
No matter the program you are applying to, you must complete all subtests. You may not have enough time to complete all of the questions in a subtest before your time for that subtest is up. Try to work as quickly and accurately as possible. You are not penalized for incorrect responses so try to answer as many questions as you can.
At the conclusion of your exam, return all materials provided to the test proctor, and collect your personal belongings.
Exam retake and previous versions
You can only take the AFOQT Form T exam twice – your original effort and a retake – and you must wait 180 days between test attempts. A waiver may be obtained to be allowed to take the test a third time. Consult with your local Air Force officer recruiter to see if you qualify.
If you tested with the AFOQT Form S or earlier version and you need to retake the exam, a waiver may be obtained to allow you to take the current test because the test you completed previously is obsolete. Talk with your Air Force officer recruiter for details.
Exam results and scoring
Eight to ten business days after the completion of your exam, your test results will be available. Scores are identified in the following areas:
Pilot
Combat Systems Officer
Air Battle Manager
Verbal
Quantitative (Math)
Academic Aptitude
Situational Judgment
The AFOQT Form T exam does not have published pass or fail scores. The command for each career group determines qualifications to be considered for their program. The better you score, the more likely you are to be extended an offer of commission.
Generally, your score is valid for life. However, new editions may be introduced that will void previous editions. For example, individuals who took the AFOQT Form S version and did not get accepted into an officer training program must retake the test using the AFOQT Form T exam.